Timber…….Fall, Foliage and Falling Trees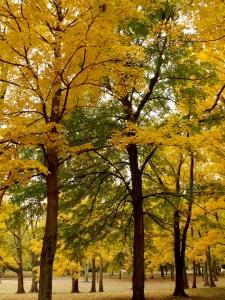 The Patriots are playing, the air is cooler and leaves are beginning to change – Fall is approaching. While you are craning your neck this season to enjoy the beauty of the trees around you please be careful – after all, trees do fall down! Nobody is more aware of the damage a falling tree can cause than the individuals whose cars were damaged this weekend when a large section of a maple tree fell while their cars were parked near the Centre Street Gate of the Arnold Arboretum in Jamaica Plain. According to Jeff Fish of the Boston Globe, the limbs fell from a tree that was added to the Arboretum's property in 1950. Luckily, nobody was in either car when the limbs crashed down; though the vehicles themselves suffered damage.
The reaction to this type of incident may universally be, "that stinks……wrong place at the wrong time…..nothing you can do about it." While this reaction is understandable, it is not accurate. In many cases, the victim of a fallen tree may in fact be able to do something about it. Believe it or not, some individual, company or public entity is responsible for the care, upkeep and maintenance of most trees that are visible to the public in Massachusetts.
Massachusetts has long held cities, towns and municipalities liable for injuries and damage caused by trees that fell along public walkways, sidewalks and roadways. These damages are normally capped at $5,000 but that amount may be sufficient to cover minor damage and/or injuries to an aggrieved person. However, in the unfortunate case that an individual is killed as a result of injuries sustained by a tree on public property or over a public way, damages are not capped at $5,000. Additionally, if a tree owned by a private individual or company, such as the Harvard Arboretum, causes injuries or damages, there is no monetary cap to recovery.
If you are injured, or your property damaged by a falling tree, do not simply put your head down and think, "oh well, wrong place at the wrong time." Chances are that some other individual had a legal duty to ensure that the tree did not pose a danger. This other entity, and not you, should thus bear the financial burden of compensating you for injuries and property damage caused by their fallen tree.
A fallen tree case has unique legal requirements that must be met in order to successfully sue the responsible party. Providing written notice to the responsible party(s) is vital and in most cases must occur within thirty days of the injury. If you or your property are damaged by a fallen tree, contact a Massachusetts litigation attorney immediately in order to preserve your right to monetary damages from the responsible party(s).
Contact Us
Fill out the contact form or call us at 617-327-3811 to schedule your consultation.